Get Started at World Community
Have you ever wanted to start a blog? But you worry you won't be able to post regularly?
Here you can create posts whenever you want. Or not. Because this is a shared blog where anyone who signs up can comment and create blog posts.
Getting started takes only a few minutes. Only the first two steps are required. The rest are optional.
Here is your step-by-step guide:
Step 1: Disqus Account
To comment here, you need a Disqus account. If you don't already have one, you can sign up here: https://disqus.com/profile/signup/
Once you have a Disqus account you can use it to register for World Community in two clicks.
Step 2: One-Click Sign UP
Make sure you're logged into your Disqus account. Click the blue Disqus Icon and give permission to connect.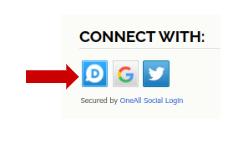 If you prefer, you can also login using your Google or Twitter account. You can also type in your username/email and a password if you don't want to connect through a social media account.
Step 3: Join the Members Group (Optional)
Click on the "Members" link in the main menu and click the "Join Group" button. You don't have to join if you'd prefer not to. You can join or leave the Members Group at any time.
The benefit of joining the group is that it helps people find one another. Notice there is a search box at the top of the Members page that allows you to chose criteria such as username to find other contributors.
You can send find friends and send/accept friend requests. The friend feature is similar to the follower feature in Disqus.
Step 4: Personalize Your Profile (Optional)
When you join the World Community forum, a profile page will automatically be created for you. Click "Profile" from the main menu to view your profile.
You can personalize your profile with banner and profile images, and add a description of yourself if you'd like.
You can also see any blog posts you have created on the "Blog" tab.
You can send private messages to other World Comunity contributors. This feature is real-time, like chat, if the other person is online when you send a message.
You can check your notifications and, as mentioned previously, send/accept friend requests.
On the Settings tab, you can change view/change your account settings, change your password, set a privacy level, or delete your account.
Step 5: Start a Discussion (Optional)
Click the "Start a Discussion" menu option to create a blog post.
Type in a Title.
Select a topic/category, if you like. Otherwise, the "Random" topic will be selected by default.
Type your text and, if you like, upload images and add videos. For videos, simply paste in your YouTube, Vimeo, Wistia or other video links.
You can stay on the "Visual" editor tab or if you'd prefer, you can click on the "Text" table and use HTML tags to format your post.
You can add tags if you like to help people find your posts by topic.
Look over your post and make sure you're happy with it.
Then tick the "I'm not a Robot" and wait until the checkmark appears. Click "Submit Post" and you're done.
NOTE: You can click "Post Eidtor" to edit your posts. If you prefer, you can also create them in the editor (admin panel).
After Your Post is published…
Remember to recommend your own post and, if you have time, join the discussion in comments. You can see a list of your recent posts in your profile as well as the main page of the site.
Support
If you have any problems or questions, ask here. Or track me down (Johnny) and I'll help get you set up. 🙂